Day of Rest
Does anyone really know what time it is? Horseshoe Bend for shortly after sunrise. But what time is sunrise? LunarPhase says 5:45 but is that Arizona time or 1 mile away where it's Utah time? As it turned out, we set the alarm wrong, missed sunrise, and decided to settle for a day of rest.
We slept in and just enjoyed the comforts of the motorhome. And the refrigerator mystery? Was it just that Carol turned the refrigerator to it's lowest setting? No. The front panel of the refrigerator has a "Check" light. When I turned off the refrigerator briefly, the check light went off for the first time. Since we were connected to shore power, that seemed to say we had a propane problem. Then it occurred to me that they may have turned off the propane at the main tank when they fixed the leak. Sure enough. When I checked the propane tank, the valve was turned completely off. All those hours when the refrigerator was set to propane, there was no fuel going to it. It turned out that we were running the refrigerator on batteries, and Carol had turned it down to the lowest setting. No wonder nothing was cold. We need to re-read the owner's manual!
In the afternoon, we drove over to the Visitor Center and found quite a surprise. Standing at the front door were security guards and metal detectors. Because the Visitor Center is the entrance to all the dam tours, etc., it is considered a terrorist target and is getting nearly as much scrutiny as airports. Now, even our Park Service Visitor Centers aren't havens from concerns about terrorism. We got our information on Alstrom Point for the moonrise shot and were on our way.
From the Visitor Center, it was off to Overland Tours to confirm our reservations. Interesting group. Charlie is the owner and tattooed from head to foot. Linda and Jackson also work at Overland tours and all are ready to tells stories; until you ask a specific question about a tour. Then, they all tried to pass the buck to someone else to provide the details. They weren't afraid to disclose the details, they just were hoping someone else would do it. 45 minutes later, we finally left Overland tours and headed for WalMart.
WalMart in Page? Not only is it a WalMart, but it's a Superstore. Carol needed new shoes since her tennies now seemed too small. The store was huge and very nice. Carol got her shoes, and I got a couple odds and ends.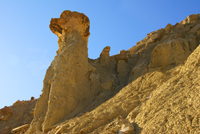 We drove back to camp, got our gear and set out for Big Water. Big Water has no water around it. We got our map to Alstrom Point from the BLM office and started on our adventure. Forgotten question of the day: how far is it to Alstrom Point? We shot a couple of wonderful spots on the way; especially the rock pedestals below Nipple Bench. My favorite was The Dragon that seemed to peer out of the hillside. All was going well until we missed the turn and ended up climbing Kelly Grade. The photo guide book calls Kelly Grade "not for the faint of heart." Although the "road" was recently graded, it was very steep and had sheer drop-offs as it neared the top. Only when we reached the top, were we sure that we had taken the wrong road. Then it was a ten point turn to head back down the mesa cliff.
15 miles later with backtracking, we arrived at Alstrom Point.

Where was all the water? The photos in the guide books were taken in high-water years. The water level is now down nearly 100'. There was supposed to be a quiet little bay bathed in sunset colors before the red cliffs on the other side. Instead, it was was dry land with no particular color. What a huge disappointment! We stayed and shot sunset, but it's going to take some powerful Photoshop work to make anything out of those images.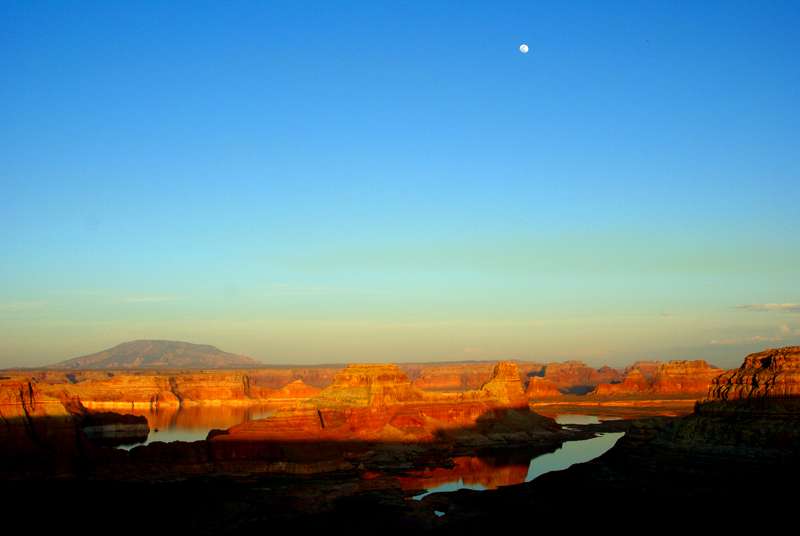 We made it back through the dark on the 4 wheel-drive roads to camp and were thankful we had made it back. We may want to return to Nipple Bench to shoot another day, but Alstrom Point is probably out until we get into a wet cycle.