Snow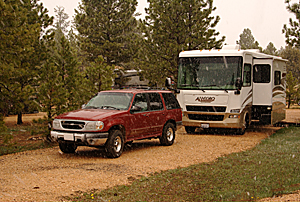 Yes, I know this is supposed to be a spring trip in the desert, but someone forgot to tell the weather. We had already decided to extend our stay at Bryce because the weather in the region was supposed to include wind and rain. The road over Boulder mountain is not a place to hit foul weather. Rain becomes snow, and the highway over the Backbone provides no room for error on either side. There is no room for shoulders, so it can be a bit intense in any weather. After I called Capitol Reef and got the weather forecast of four straight days of rain and/or snow, we definitely were staying in Bryce. Full hookups sound mighty good when you need the furnace to keep warm and don't want to worry about the battery charge.

We enjoyed a leisurely breakfast of French toast and sausage as we watched the weather front approach. The sun was shining from the east, but the entire western horizon was one dark and brooding storm front. We finally decided to check out Red Canyon and see if we could get the sun on the red-rock formations with the storm clouds behind them. When we left camp, it was 46 degrees. By the time we had reached Red Canyon, it had dropped to 38 degrees and it was snowing. The amazing thing was that the snow actually intensified the red of the formations as they got wet. It cut visibility to 1/4 mile, but it was amazing for the formations that were right in front of us! We probably shot there for about 1/2 hour trying to capture the snow falling in the photos. During that time, there were three of four squalls of snow showers. The flakes were huge, and they alternated from coming straight down or at a steep angle from the west. Other than getting a bit wet, it was a beautiful place to spend the late morning.
| | |
| --- | --- |
| | |
When we left, it was snowing hard and the temperature had dropped to 31 degrees. The snow flocked all the ponderosa pines and stuck to the signs so they couldn't be read. Visibility on the highway was 1/4 mile and everything was white. Although it continued to snow when we returned to the motorhome, there was no snow on the ground and nothing accumulated. We were going to try shooting the snow over the Canyon, but the snow stopped and the sun came out while we were eating lunch. We drove over to the Canyon to shoot after lunch, but the light wasn't great and there didn't seem to be any prospects for any improvement later in the afternoon.
We returned to camp, enjoyed a leisurely afternoon in the motorhome, and had a grilled chicken dinner as we watched the sunset.