Time for Plan....OK we've run out of letters for our plan changes. Let's recap.
Nine Mile Canyon - impassible
Cathedral Valley - impassible
Burr Trail Loop - road washed out
Little Wildhorse Slot Canyon - too dangerous to hike
Horseshoe Canyon - road impassible
Hole-in-the-Rock Road - closed
Cottonwood Canyon Road - impassible
Willis Creek Slot Canyon - road impassible
These were all destinations for this week. We've always found other things to do, and we've had a great time, but it isn't very much like the week we had originally planned.
Since all the back roads around Capitol Reef are closed, we decided to do a road trip over Boulder Mountain. We were told the aspens were gorgeous along the highway. It was an interesting drive, but the aspens were well-past prime. The aspens at the top of the mountain were completely bare already. Hunting season had opened October 1, so there were lots of hunters hoping to bag an elk on Boulder Mountain. Some had come in old pickups that didn't look like they could even get up the mountain. Others pulled huge trailers and set up hunters camps wherever there was an area flat enough and dry enough to camp. They had unloaded their ATVs and were going to make fast work of getting into the more remote areas.
We ate our lunch at an overlook and then drove to Devils Backbone. I have noticed the signs for this area for decades and had read it was an amazing overlook. Unfortunately, no one seemed to include the mileage to this overlook. We had plenty of time today, so we thought we'd check it out. It was a well-graded dirt road that wound through ranch country and over a series of ridges; first covered with juniper-pinyon and then with Jeffrey pine as we continued to climb higher. After an hour and about 30 miles, we reached the Devils Backbone bridge. The bridge spans a chasm between two canyons that drop straight down on both sides. The view straight down from the single-lane bridge is spectacular, although it doesn't photograph well. It might be better in good light, but we couldn't capture the remoteness or the incredible depths of the canyon. This was more like condor country than a place for people.
We also wanted to drive over Boulder Mountain to see how it would be for the motorhome. We've driven the road several times, including with the pop-up trailer with no issues or concerns. The motorhome was a different thing. The highway had a lot of long steep stretches, and there is a spine above Calf Creek State Park called The Hogback

that is very narrow and exposed for a short distance. The scenery on both sides of the spine is amazing. I've never seen such expanses of slickrock. Boulder Creek winds like a green ribbon through the gray sandstone. The contrast between the cottonwoods and riparian plants along Boulder Creek with the expanses of sandstone in every direction is amazing.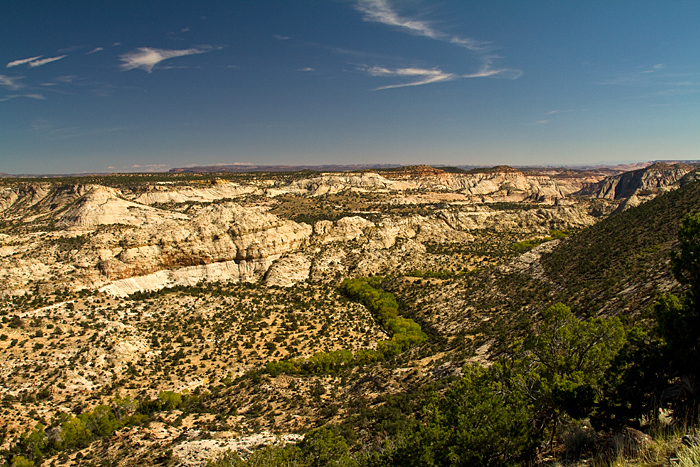 In Escalante, we went to the Grand Staircase Visitor Center. Once again, we heard the now-familiar words, "that road is closed" or "that road is impassible." Every destination we had planned for the Escalante area was a "washout" (pun intended). We concluded that we might as well skip Escalante completely and move from Capitol Reef to Bryce Canyon.