We've had lots of amazing days on our travels over the past 25 years. Today was not one of them. We drove 30 miles to check out Beatty, Nevada, and the ghost town of Rhyolite. I don't know what we expected to find in Beatty, but except for the Eddie's World gas station, there wasn't much there. The good news was that we saved nearly $2.00 a gallon on gas compared to the price in Death Valley. The high point was the cool, metal sculpture welcoming the visitors to Beatty.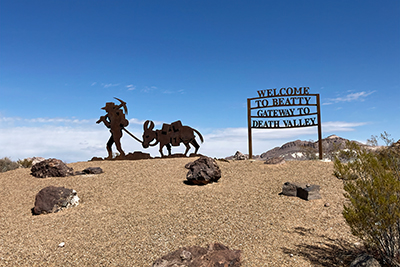 Rhyolite was a few dilapidated stone buildings that were surrounded by cyclone fencing. We've been spoiled by the ghost towns we've seen in the San Juan Mountains of Colorado. Rhyolite warranted only a slow drive through.
By the time we got back to camp, it was time to pack up to shoot sunset at the sand dunes. It was a beautiful afternoon. There was no wind, and there were only a couple of small clouds high in the sky. By the time we drove to the sand dunes, there were clouds coming in, but there was a huge gap below them and above the horizon that promised warm, directional light on the dunes. By the time we reached the location we wanted to shoot, the clouds had thickened, and there was only a small gap at the bottom. And as the sun continued to drop, the clouds filled in the gap until there was no hope for the sun to light the scene. For the second night in-a-row, the dunes had teased us into thinking we were going to get some great shots but shut us out. Tonight, I didn't get anything worth while.
We compensated by having shrimp scampi for dinner. Since we don't have any hookups here, we are limited in our use of the microwave, and it's a bit of a challenge for meals. The shrimp scampi was a treat.
By the time we finished eating, the wind was howling and we pulled in the main slideout for our motorhome for the second time on this trip. We had only had to do that one time in the previous 13 years of traveling in the motorhome. It's spring in Death Valley.