I woke up this morning a little before 6:00, so I decided to shoot sunrise at Zabriskie Point. It was obvious it would be a flat sunrise because there wasn't a cloud in the sky, but I decided to join the other hundred people at the overlook. There were lots of people there but very few serious photographers (based on the type of equipment). They knew this morning wasn't going to offer much. And they were right. It was a beautiful morning and people seemed to be in a good mood after escaping their home quarantines. I took photos as the light changed across the face of the formations and compared notes with others around me. The enjoyment was based on the experience and not the resulting photos.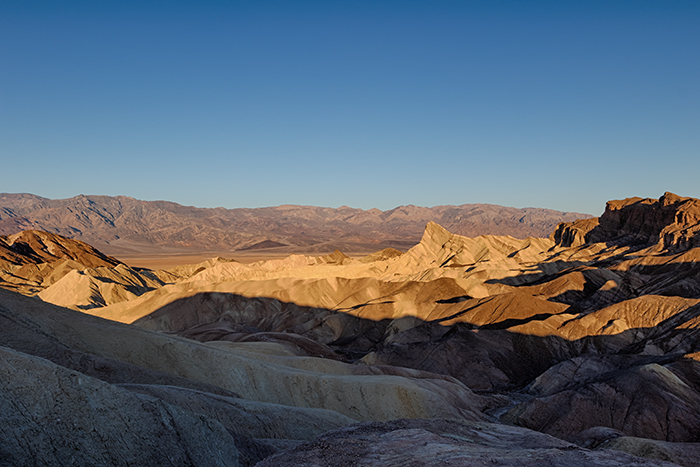 After three days, we finally solved the mystery of where the Post Office near the campground was. It was extraordinarily well-hidden amongst the construction of the new cabins. The directions Carol was given provided very little help for the actual location, but we finally found it.
Carol decided she wasn't up to any more hiking today, so I returned to the Mesquite Flats Dunes for sunset. I knew exactly where I wanted to go, so I waited to leave until the last moment. There were very few people in the dunes, but they all selected places that assured they would be in my photos. A couple sat at the top of the highest sand dune in the area with a huge umbrella. Two guys hiked right into the middle of my photo and sat in the shade of the dune to chat for an hour. I know they saw me. I know they could hear my camera shutter, but they settled in right in front of me. There was a huge, vast area for them to sit just a few yards behind me. Now, I'll have to remove them from almost every image.
The people on the top of the giant sand dune added interest by snowboarding all the way down to the bottom of the dune. The full moon also did its part as it rose over the dunes just before sunset. It was gorgeous. Please notice the tiny people standing on top of the dune for scale in the moonrise image below. I wish I had a longer lens to photograph moonrise. I spent so much time trying to photograph the moon, that it was nearly dark when I returned to the Explorer. It was nearly 9:00 by the time I got back to camp.