Tuesday dawned overcast with the entire Bow Valley filled with clouds. That meant we could sleep late and then drive into Canmore for lunch. After lunch, the sun started breaking through, so we headed out for the southern end of Banff.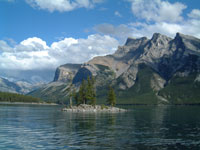 Our first stop was Lake Minnewanka, a long narrow lake below Mt. Inglismaldie. We walked along the shore, Carol intent on photographing the ground squirrels. As we came around a corner, we found the spot to photograph the tiny island in front of Mt. Inglismaldie.
From Lake Minnewanka we continued on the loop road to Two Jack Lake and then to Johnson Lake. Johnson Lake was shallow and nearly perfectly still. The high point of the visit was two loons swimming by us underwater. They were amazing. Their wings were swept back and their legs were out behind them. They seemed to be swimming effortlessly, but they were fast.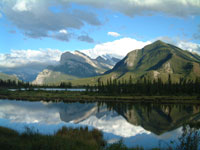 Of course, they caught us without the proper camera gear. I returned to the car and got my serious camera and long lens. I hiked nearly halfway around the lake, but never got close enough to photograph them.
Our final stop for the day was the Vermillion Lakes scenic drive for sunset. It was supposed to be a good spot for wildlife, as well as a good sunset location. Although we didn't see the moose we had hoped for, we did get some good sunset shots. Unfortunately, this small digital camera doesn't handle the contrast too well. I'm sure we will have some good shots with our serious cameras. We provided an evening meal for some of the mosquitoes in the area, but it was a location we will return to if the weather clears.