Wednesday was the beginning of our camping adventure. It was time to give up the luxury of the Howard Johnsons and move into the Tunnel Mountain Campground. Camping in a pop-up camper is hardly roughing it (especially with electricity), but it was a bit of a change from our previous nights.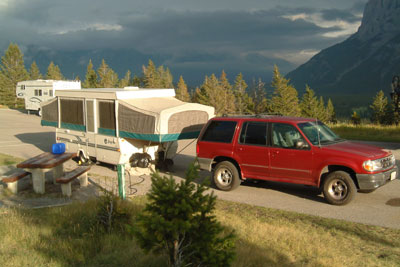 This campground is a bit unusual in the sense that it looks a bit like a housing project, all laid out with streets and intersections. The campsites are simply sections of pavement on these streets with a small space containing the picnic table next to the pavement. Still, for the backing impaired, it was certainly easy getting parked and set up.
After going to town to get groceries and eating lunch, it was time for a luxurious afternoon nap. If the weather wasn't going to cooperate, we were going to at least have a relaxing afternoon.
The weather got even cloudier as the afternoon progressed, so we ended up staying in camp the rest of the day.