Although the day started promising with blue skies and sunshine over the majority of the sky when we woke up, it soon returned to its "normal" gray overcast gloom. That was the end! We were leaving Banff...
We packed everything up, dropped the tent trailer, and started for Jasper National Park. It wasn't terribly interesting at first because we had already driven the road three previous times looking for places to photograph. As we reached Waterfowl Lake, our luck changed. We noticed cars parked along both sides of the road and discovered a moose off in the distanced feeding in the river. Even with a 1000 mm lens, it was a mighty small moose. We saw a parking lot up ahead big enough to park the Explorer and trailer, so we decided to try to hike along the edge of the lake and see how close we could get to the moose. It must have been a popular moose, because we found a trail through the trees toward an area closer to the moose. We shot a few shots from there, but really wanted some closer shots. We hiked across a small meadow and worked our way to a small group of trees we could use as a blind. The moose definitely saw us, but we weren't threatening or moving forward. She continued to feed, looking up every ten minutes or so to see if we were still there. We had a mutual respect thing going with her. We got some decent shots until she had her fill of lunch and ambled off.
From this point on, the day gets pretty crazy. We climbed the pass by the Columbia Ice Fields and started back down the other side. A car pulled up beside us on a long straight stretch, honked, and said something was wrong with our rear wheel. That was an understatement. All the lug nuts were gone and the entire center of the wheel was sheered away. The tire and rim were somehow still on the wheel drum, but that was all. It was a miracle that the entire wheel didn't fall off the trailer going down the mountain. It was a bad situation, but it could have been MUCH worse!
The nice Michigan couple took Carol to a Park Warden office where she could call AAA. An hour later, the tow truck driver loaded up our poor little trailer and hauled it to Jasper. We arrived just as the Goodyear store was closing, but they were very nice and we got everything set up for them to work on it the next day.
| | |
| --- | --- |
| | |
| How did the wheel stay on? | Sad Sight! |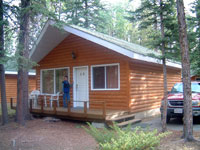 The trailer was stowed and the tow truck driver was paid, but we had no place to stay. No problem. It's off season and during the week. Wrong! Every motel in town was filled. Fortunately, we had our cell phone and the AAA guide. Carol began calling every place in town and finally got a referral from one that was already filled. We got the last cabin at the Pine Bungalows. We had planned on a camping budget but discovered we were now on a luxury tour pricing. After an hour of showers and relaxing in a real cabin, we forgot all about how much it cost. It was worth every cent. To our delight, we discovered that Carol's Trip Interruption Insurance would pay for our cabin and all our meals while the trailer was being fixed and unavailable for camping. The cabins were looking better all the time.
We drove in town looking for a restaurant still open for dinner. We found a great little Greek restaurant with wonderful service and good food. Of course, all the normal people had dinner hours earlier and were already back at their hotels preparing for bed. We keep noticing this trend where we are up before most of the people around us, and we are definitely the last ones up at night. That makes for some long days and short nights.