We slept in and enjoyed the comforts of our Pine Bungalow. When we got up, we discovered mostly blue skies and no hint of rain. What a concept! We might actually stay dry for an entire day.
We drove up to Patricia and Pyramid Lakes just above Jasper. Pyramid Lake was quite still and provided reflections of Pyramid Mountain. I think we will have some pretty good shots from this area. The Pyramid Lake Resort looked very nice. It would be a wonderful place to stay for a winter vacation in this area.
We returned to our bungalow and had a lunch of leftovers from our night on the town. From there, it was off to Lake Annette. It definitely had possibilities, but there were too many man-made structures to get any real picturesque shots. We had a nice stroll around the lake but won't have a pictures to show for it.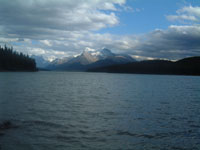 Our next stop was Maligne Lake. We want to take the boat cruise around the lake so we can get the classic shot of Spirit Island. Our plan was to check it out today, and then take the cruise tomorrow. On the way we passed Medicine Lake, somewhat of a freak of nature. In the spring, it fills from snow melt, but during the summer it slowly disappears. In September, only a small remnant remains. With no outlet, where does the water go? They have discovered that the underlying rock is limestone and the water seeps into caverns where it is transported down the mountain. Eventually, it rejoins the river in Maligne Canyon when it hits impervious rocks and seeps out as springs. The strata in the area is amazing. It is one giant syncline warped nearly straight up on the east side.
Maligne Lake was beautiful. As we looked down the length of the lake, we saw towering, snow-covered peaks. We found a great shot for sunset, but the clouds rolled in long before the sun set. It was disappointing to miss a great opportunity, but it got us on our way home earlier, so we could have dinner at a more normal hour.
We returned to Karouso's for dinner. We had great food once again, but the service was 180 degrees from what we enjoyed the night before. Next time, we'll ask to be seated in Allison's section.