Even on vacation, it's impossible to escape the memories of what occurred a year ago today. When our clock radio alarm went off on that fateful day, we were shocked into the new reality of terrorism in the United States. Our parents had Pearl Harbor. Our generation will always have September 11.
Today was our first attempt at shooting sunrise. Every other time we considered shooting sunrise, the cloud cover was too heavy so we rolled over and went back to bed. When we went to bed, it looked clear, so we made the decision to go for it. Unfortunately, we guessed wrong. We drove to Pyramid Lake and waited for the sunrise that didn't come. The lake did its part, but the sun couldn't get through the clouds and Pyramid Mountain was completely shrouded in clouds. We returned to our bungalow and went back to bed.
By the time we woke up about 10:30, the sky had begun to clear. We decided today would be our day to shoot waterfalls since we could concentrate on the falls and cut out the sky if we needed. Thirty minutes after we left Jasper, the sky was nearly clear. It turned out to be a gorgeous day. It even reached 70 degrees!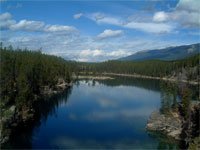 We photographed Horseshoe Lake, Athabasca Falls, and four of the Sumwapta Falls. Horseshoe Lake was a bit of a lark, but it turned out to be a wise investment in time. It was only a short hike, and a very interesting lake. The glacier had scoured out a basin but then ran into a very resistant ridge in its path that it could not break through. Horseshoe is a long narrow lake that ends in the ridge of rock where it is very deep. The color of the water was an amazing deep turquoise blue. Surrounded by trees and a warm sunny day, meant perfect reflections.
Athabasca and Sumwapta Falls are two main attractions for all the tours and most of the visitors to Jasper. We joined the other tourists and shot the main views of both waterfalls. The exception was that we also hiked 4 km down the canyon of the Sumwapta Falls to see the other three lower falls. They were actually better than the upper falls.
We headed back for Jasper about an hour before sunset. We stopped to shoot some picturesque mountains around the Athabasca River. As we were looking around, we realized the clouds around the mountains were all cirrus clouds and would probably light up for the sunset. Our wait for the sunset was well rewarded in the photographs we were able to get. The moon even cooperated by setting over the mountains we were photographing. It was a great ending to a day that started slowly but turned out to be a very enjoyable and productive day.
Today's Photo Gallery
Athabasca Falls
Athabasca River
Below the Falls
Upper Sumwapta Falls
First of the Lower
Sumwapta Falls
Second of the Lower
Sumwapta Falls
Third of the Lower
Sumwapta Falls