Our plan was to sleep in a bit by shooting the sunrise from the edge of our cabin property. The view stretches out across the Athabasca River all the way to Mt. Edith Cavell. When we got up, we heard the bugling of a bull elk and it sounded close. We walked out to the point for the sunrise shot, but it was misting a bit and the sky was mostly overcast. On the way back to the cabin, we heard the elk again...very close. We walked toward the registration office where we found the small herd of elk we had photographed along the river the day before. We had lots of company photographing the elk, as they had awakened everyone else in the surrounding cabins.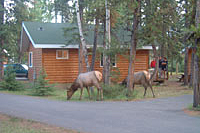 The bull elk had soon had enough of all this attention and strolled to the forest surrounding the cabins. The cows weren't done eating yet and just grazed on the grass around the cabins. The bull elk bugled and bugled but still found himself alone in the forest. He couldn't allow that kind of disobedience and returned to the area near the cabins and started bugling all over again. All of this made for some interesting photographs except that the light was quite low and the shutter speeds slow.
Carol continued to try to get closer to photograph the bull elk and finally went a bit too close. It may have been the angle she had. It was slightly between the bull and a couple of cows, or it may have been that he was tired of all this attention while he was thinking of romance.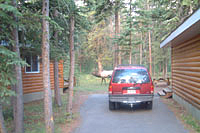 Carol had quickly gotten behind some trees, but she still was too close. He continued his charge until he was about six feet from Carol. Then he started scraping his antlers (REALLY BIG ANTLERS) in the dirt in front of him and started spraying all over the ground to mark his turf. I yelled at Carol she better back out of there right away, because this was his final warning. Carol managed to back through some trees to the side of a cabin and then walk away. I'd like to say that I have an .avi file of the whole charging elk episode, but alas, I was trying to get the elk's attention in another direction. Any way you look at it, it was a close call.