The wind was still blowing when we got up. I had very little hope that we would have anything to photograph when I woke up, but I was pleasantly surprised. The peaks were starting to light up and there were only scattered clouds in the sky. We grabbed Granola bars for breakfast and headed off to check out the park.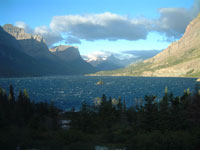 Our first stop was the viewpoint for Wild Goose Island. The wind was blowing so hard, it was hard to stand on the ridge to take the picture.
As we continued toward Logan Pass, the wind died down, and it was a beautiful day. The Logan Pass area was closed for construction, just as it was seven years ago when I was here last. I think there is a conspiracy.
We continued on the Going to the Sun Road all the way down to Lake McDonald and the Apgar Visitor Center. It was at the Apgar Visitor Center that we found the weather forecast for tonight. Once again, it predicted 20 - 40 mile-an hour-winds, with gusts over 60 miles per hour. That was enough reason to look for another alternative to camping in the tent trailer again. Carol called the resort in St. Marys and made a reservation for us.
We started back over the Going to the Sun Road. As soon as we dropped down on the east side of the Continental Divide, the wind returned. It kept getting stronger the farther we drove down toward St. Mary. We stopped at a viewpoint of St. Mary Lake to take a photograph and could hardly stand up against the wind. It was amazing. The entire lake was covered with white caps and waves were crashing against Wild Goose Island. A few miles farther down the road, the wind whipped up so much water from the waves that it formed a rainbow. I didn't know such a thing was possible.
We returned to the St. Mary Campground and took down the tent trailer. We checked into our cabin at the resort and listened to the wind howl outside. It was much more comforting to hear the wind from the warmth and comfort of the cabin than the tent trailer. When it began raining just before we headed off to bed, it seemed our choice to move from the campground was an excellent one.