Today was one of our best days. It was overcast for sunrise, so we didn't get up until after 9:00. The clouds looked promising and the wind had died down, so we headed off toward Lake Mary to see what we could find. Even though it was late morning, we discovered a part of Lake Mary that was absolutely quiet. The surface of the water looked like polished mercury. It was amazing and only lasted for a few minutes.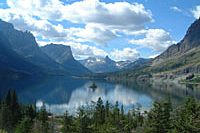 A few more miles up the road and we came to the Wild Goose Island Overlook. We had shot here twice previously, but it was nothing like this. The lake was quiet and the clouds looked like they had been painted on the horizon for the perfect affect. Except for a motor boat that went through the area, it couldn't have been better. We both shot the scene every way we could think of before finally continuing on to Logan Pass.
We had heard that the Hidden Lake Overlook Trail at Logan Pass was a good place to photograph mountain goats. We soon joined the throngs of people hiking up the boardwalks that protected the fragile alpine environment while enabling us to climb to the bench high above the visitor center. It took quite an effort to get to the top of all the steps and boardwalk levels, but we finally reached the main bench and the trail that continued from there.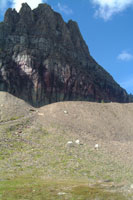 Almost as soon as we started hiking the trail, we came upon a mountain goat right next to the trail. He posed for us before finally getting bored and moving off up the mountain. A short distance later, we discovered a small herd of three mountain goats. They seemed totally oblivious to our presence and went about their normal routine of eating their way up the mountain. Fortunately for us, their path paralleled our trail. We continued to photograph them for nearly a half mile until we finally reached the Hidden Lake Overlook. By that time, I had shot all three rolls of film that I had, plus a bunch of digital images. Carol also shot 1.5 rolls of film of the goats. They were just growing in their winter coats, so they were spectacular. Getting as close as we did was an extra bonus.
By the time we returned to the car, we were bushed. We were still tired from our previous day at Grinnell Lake. We were glad to make it an early day and return to our motel for a shower and dinner.
Today's Photo Gallery
| | | |
| --- | --- | --- |
| | | |
| Hidden Lake | Mt. Goat Kid | Mt. Goat along Trail |
| | | |
| Mt. Goat Kid | Mt. Goat along Trail | Mt. Goat at Hidden Lake Overlook |