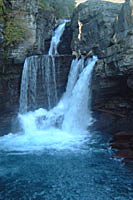 Our main goal for today was to see two of the main waterfalls in Glacier: St. Mary and Virginia Falls. On the map, it was to be about 3.5 miles with St. Mary near the beginning of the trail and Virginia Falls at the other end. The rest of the trail looked to be a hike along a stream in a forested area which didn't show much promise of additional photographic subjects. We were in for a very pleasant surprise.
From the trailhead, it was nearly all down hill to St. Mary Falls. It was tucked in to a narrow canyon that spilled down the ridge and into a small pool. We nearly had the area to ourselves, so we had no problem trying different angles and approaches to photographing the falls.
As we hiked away from St. Mary Falls, the trail crossed a small stream and started up another small watershed. A short distance ahead we found a small waterfall and a series of cascades that dropped a couple of hundred feet down the canyon. Could we have reached Virginia Falls already? The GPS said no, but it was a beautiful area anyway.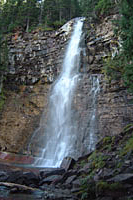 As we continued up the canyon, we found two more sets of waterfalls and cascades that had their own unique appeal. We finally rounded a corner in the trail and saw Virginia Falls. This late in the season, it was more like a translucent veil than a waterfall.
After hiking back to the car, we continued on the Going to the Sun Road, Logan Pass, and dropped down the east side toward the Avalanche Lake area.
We had hoped to hike along Avalanche Creek to Avalanche Lake. Unfortunately, the area was getting progressively cloudier. It was too far to hike for such a poor chance of getting any good photographs. Instead, we continued driving along Lake McDonald until we found an area that had almost no wind and wonderful reflections. Within a few minutes the wind came up and the clouds rolled in.
We used the remainder of the afternoon to check out all the gift shops around East Glacier. We ate dinner at Ed's on the final night it was going to be open for the season. Unfortunately, the food showed it.
Today's Photo Gallery
| | | |
| --- | --- | --- |
| | | |
| Bottom Section of Cascade Between Falls | Waterfall Along Canyon Floor | Lake McDonald |