We got an early start for the park. We had to get past the road construction before 10:00 when they closed the road for eight hours. The good news was that we arrived at the Norris Junction campground early. As we drove into the campground, we had to pass the gauntlet of photographers trying to shoot the bull elk and his harem that were hanging out near the entrance. Arriving early meant we had our pick of the prime campsites in the A loop that faced the meadow. We got a great campsite and quickly set up the trailer. We even had some entertainment as two bison took over one of the walk-in campsites. The people were stuck inside their tent, until the bison finally decided to leave. You don't argue with wild animals that big. Their next stop was the split-rail fence outside the bathrooms, which they basically demolished.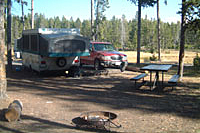 After setting up camp, we were off to the Mammoth Hot Springs area in the northern section of the park. We hiked down to Canary springs, but most of the spring flow had been diverted away from the terraces. It was a theme that was to be repeated in most of the areas of the hot springs.
From the Canary Spring, we hiked over to the trail that that leads down to the Minerva Terrace. A short distance down the trail was Jupiter Spring which had a shimmering opalescence. Carol really liked this area, so she hiked the remainder of the trail down to Minerva Terrace while I hiked back up to the car and then drove down the hill to the parking lot at the base of Minerva Terrace. That meant hiking back up the hill to discover that Minerva Terrace was totally dry. What a disappointment! It had been gorgeous when I was there last time.
We continued driving around the loop to Hayden Valley. We drove nearly all the way to the opposite end of the valley before we saw any wildlife. At the final turnout, we found a small herd of bison right next to the road. Continuing around the loop, we drove along the Yellowstone River until we saw a gaggle of Canadian geese. The lighting was good and the geese cooperated by swimming right out in front of us.
As sunset approached, we headed for Fisherman's Bridge in hopes of finding a good place to photograph the cirrus clouds at sunset. Our route was interrupted by a herd of bison crossing the road. When you are that big, you don't give up the road for anyone, let alone a bunch of cars.
After photographing them until the light was too low, we continued to Yellowstone Lake where we shot sunset from a point jutting out into the lake.
Today's Photo Gallery
| | | |
| --- | --- | --- |
| | | |
| Jupiter Spring | Canadian Geese | Takeoff! |