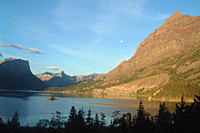 We missed photographing the moonset over the peak near the resort yesterday, so today we made sure that we got up early enough to make it to the Wild Goose Island Overlook in plenty of time. There was only one other photographer there, so we had no problem getting a good spot.
We returned to the resort, finished packing everything up, and headed for Yellowstone. We cut across on a minor highway before turning south on Interstate 15. Part of the drive followed the Missouri River through Lewis and Clark country. It was gorgeous. The river wound through volcanic ridges covered with green grass. It's definitely an area I would like to explore on another trip when we aren't pulling the trailer. As we neared Yellowstone, we started following the Madison River. The ranches and cabins along the river were beautiful. The river was wide and slow through much of the area with cabins on bluffs overlooking the river. Cattle ranches stretched back to the mountains with their aspen groves lining the stream bottoms.
We reached West Yellowstone right at sunset and checked into our room at the Best Western. Warm showers and KFC made for a good ending to a long day.