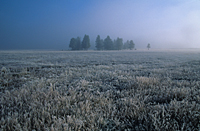 Brrrrrrrrrrrrrrr. That about sums it up. It was so cold this morning that the water bottles sitting on the table in the trailer were frozen. Just to make sure this is clear. The water froze INSIDE the trailer. At 9:00, it had risen to 21 degrees.
The wildlife around Norris Campground didn't seem to notice the cold. Sid Vicious had his harem near the entrance to the campground as usual. Poor Homer and Jethro were all alone in their own sections of the meadow. The fourth bull elk was still up the side meadow near the campground. The two resident bison also strolled through the campsites and nearly knocked down the fence outside the bathroom. Our original plan was to drive over to the Madison River and shoot the wildlife there before going geyser gazing. With all the wildlife right near the campground, we had shot a couple of rolls of film before even leaving camp.
Just after beginning the drive along the Madison River, we came across a large bull elk among a herd of bison. We got some interesting shots of the elk interacting with the bison until he decided to cross the river and go off on his own. In the meantime, the bison kept moving toward us until they were nearly right in front of us. They were right along the river, and we were up a small bank behind a downed tree. Just as they reached our position, something spooked them and they stampeded. It was quite a sight. I only wish I had the digital camera so I could have taken a movie of them.
Our main goal for shooting along the Madison River was to shoot the trumpeter swans that live there. We found a single swan just past 7-mile Bridge and spent nearly an hour shooting it. The lighting was great, and the swan eventually swam in front of a good background.
We hiked the Upper Geyser Basin (Old Faithful area) during the afternoon.The timing of the eruptions allowed us to photograph Daisy Geyser, Castle Geyser, River Geyser, and Old Faithful. The eruption of Castle Geyser and Riverside Geyser were wonderful. There was even enough sun to have a rainbow in the eruption of Riverside Geyser.
Today's Photo Gallery
| | | |
| --- | --- | --- |
| | | |
| Castle Geyser | Castle Geyser | Riverside Geyser |