Carol had no great desire to get up to shoot sunrise this morning, so I went on my own. When I arrived at the La Sal Mountains Viewpoint,

sunrise looked very promising. There were clouds in the sky, and the sun was starting to light them up. That part was great. The problem was that the clouds blocked the sun when it should have been providing all the warm light on the Courthouse formations. There was about 1 minute of warm light, and then it was gone. Bummer! But that provided lots of time to try creating panoramas and HDR images.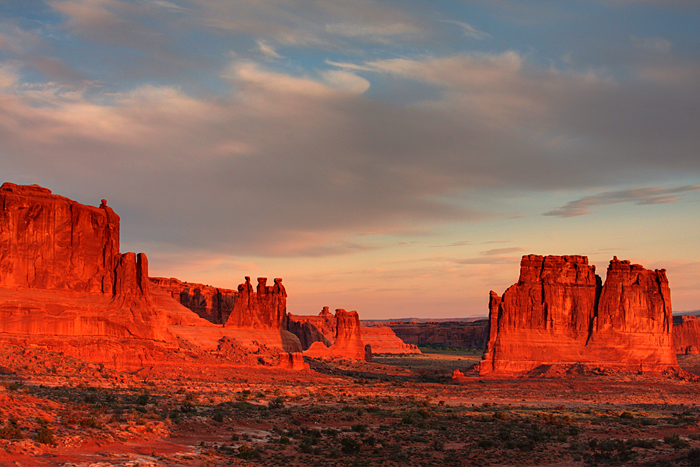 I hiked out to an area of Arches that I hadn't checked out before called The Great Wall.

The lighting was good, and the formations were pretty interesting. There were lots of junipers for foreground color, and the walking was easy. It was a nice morning walk.
By the time I was done, it was time to head back to camp and check on Carol. We drove in to Moab to check out all the changes since we had been here 10 years ago. Our favorite T-Shirt Shop was still in business and in the same location. I replaced my favorite t-shirts that had worn out long ago. We checked out a few more shops, including another t-shirt shop so I can re-stock my closet at home. Then, it was off to the Moab Diner.
We shot sunset at Balanced Rock in Arches. This has been one of our favorite sunset locations, but tonight it was pretty dull. With a drab sky, there was nothing to "grab you." It seemed like a good candidate for an HDR image, so we shot several series of images to provide the raw data. For a drab sunset, it turned out fairly well.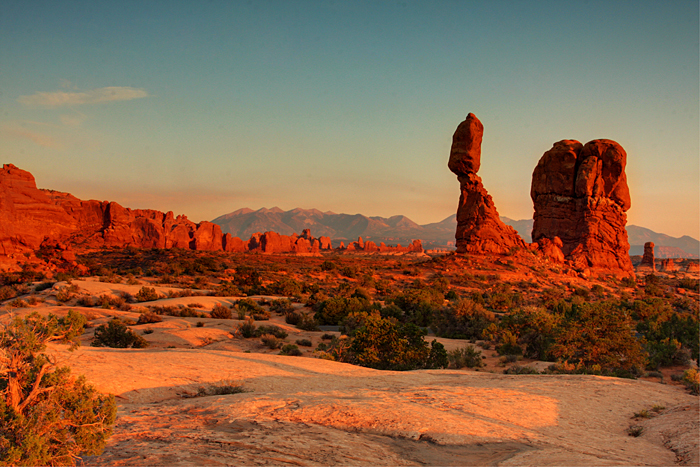 We drove back down into town to our campsite, had dinner, and then watched some TV. The campground even provided cable TV.
About 11:00, we returned to Balanced Rock

in Arches to try our hand at astrophotography. We had a few comical moments (sounds better than embarrassing) trying to find the formations in the pitch black. Then we had to figure out the exposures. After about 30 minutes, we finally started getting some images that we could use. In fact, they looked pretty good on the back of the camera. It was a beautiful, warm night, and the sky seemed to be nearly solid with the stars of the Milky Way directly overhead.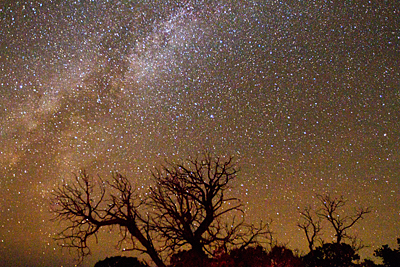 We finally got back to camp about 1:30 a.m. and took a quick look at our images. That's when we realized we knew nothing about how to process the images to get rid of all the noise. We have a lot to learn about this stuff.