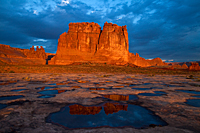 Our revised plan was to shoot sunrise at the potholes in the Courthouse area until 9:00 and then return to camp and call Mark Cooley at RV Specialists and see if he has any other troubleshooting ideas for our electrical problem. They did the solar panel and inverter installation for us a couple years ago, and they've been very helpful since then. If we can't solve the issue, we'll have to try to find a repair place in Moab, which means staying in Moab through the weekend.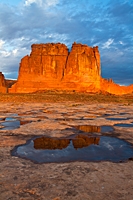 We woke up to partly cloudy skies and the possibility of a good sunrise. We arrived at the parking area for our sunrise shot and had to squeeze in between two other cars. It turns out that there were several other people who had the same idea about sunrise. We walked out past the other photographers to the area we scouted yesterday. We found our favorite potholes and then waited for sunrise. It was another reminder that we spend many more hours waiting for the right light than actually photographing. At this time of year, the sun rises just east of the La Sal Mountains. In this weather pattern, that means it rises through the clouds that tend to stagnate right over the mountains. Every time we thought the sun was about ready to break through, the clouds would shift and close the hole. We probably had about 10 minutes of really good light, and then we noticed that our favorite spots included our shadows as the sun shifted. Since we had scouted the location in the afternoon, we hadn't noticed that we were shooting directly between the sun and the formations.
We continued to move up and down the wash to change foregrounds and angles as the sun went in and out of the clouds. We never had great light again, but we had brief moments of light breaking through. Regardless of the light, it was a gorgeous morning in a beautiful place.
At 9:00, we started back toward the Explorer. We ran into a fellow photographer from California and began comparing notes on places we had shot. We had photographed many of the same places over the course of the last week, so it was interesting to compare the differences in timing and results.
When we got back to camp, we called Mark Cooley, and he solved our electrical issue in about 5 minutes. Since we have an inverter, it serves as the panel for our electrical outlets. One of the breaker switches on the front of the inverter had been thrown. We flipped the breaker switch, and we were back in business...thanks to Mark.
We quickly packed everything up and by 10:30, we were driving to Capitol Reef. The closer we got to Capitol Reef, the more flooding we saw along the highway. In several places, the mud had to be cleaned off the road. It has rained here for 4 straight days, and there's mud everywhere. The lazy-flowing Fremont River has filled its banks with churning red water and looks nothing like we've seen on past trips.
We had no problem finding a campsite in one of our favorite campgrounds in the entire National Park system. The four days of rain had probably discouraged all but the heartiest campers. We were set up about an hour when the rains started. It rained for over two hours. There are times when I miss real camping: sleeping in a tent, keeping warm by a fire, and eating outside. Tonight wasn't one of those times. We have been snug and warm sitting inside our motorhome and listening to it rain. I can deal with sleeping in a tent in the rain, but doing meals and trying to find something to do other than sleep in a small tent is the "pits."
As much as we love Fruita Campground in Capitol Reef, we have discovered it has one drawback. It has no cell service, so I have no MiFi coverage. That means I won't even be able to find out the score of the Nebraska game, let alone watch it on TV. Oh well, I guess it's the price we pay for staying in such a beautiful and remote location.