Capitol Reef National Park. We've come to Capitol Reef on warm spring days, escaped to Capitol Reef when we were snowed out of Yellowstone in September, found refuge in Capitol Reef after a depressing week of snow at Bryce Canyon in April. We're once again hoping it will be our sanctuary. It's interesting that one of the lesser-known national parks is also one of our favorites. No matter what kind of trip we've had before coming to Capitol Reef, it always feels like home. It's a sanctuary where we can slow down and relax. The campground is a green oasis of grass and shade trees surrounded by red sandstone walls. You can spend days just sitting in a chair and enjoying the view from your campsite. You can do as little or as much as you want and be equally happy here.
When we got up this morning, the rain had been replaced by blue skies and sunshine. It was only 39 degrees, but it was dry. We made pancakes for breakfast and relished a leisurely morning photographing near the Visitor Center. We stopped by the pictograph panels

and then shot along the river

toward The Castle. The Fremont River still looked like chocolate milk from all the runoff. There won't be any reflection shots any time soon.
| | |
| --- | --- |
| | |
| Pictographs | The Castle |
We enjoyed lunch in camp and just kicked back for the rest of the afternoon. At 5:00, we were ready to head out for our golden-light shooting. Before we started shooting, we needed to find an area where we had cell service. If we have cell service, I can start up the MiFi and use my iTouch to find the score of the Nebraska game last night. Once we left the main canyon around the Visitor Center, we had Verizon cell service. Five minutes later, I had the Nebraska score: 48 - 13 over Kansas State. It turns out I missed a great game to watch. Nebraska went crazy with a series of very long touchdowns and kept Kansas State out of the end zone until the game was long over. This team has a long way to go, but I've never seen a Nebraska team that scored on such long plays. The quarterback scored on runs of 80, 60, and 40 yards in this game. They also had a pass play over 70 yards and a run by Helu of 60 yards. That is a quick-strike offense.
Being here in October has meant the sun is setting in a different location. At Chimney Rock,

that translated into exploring some different angles to keep the spire lit. We discovered a small ridge where the sandstone had ripple marks to provide clues to its formation.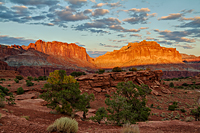 From Chimney Rock, we drove over to Panorama Point

for sunset. By this time, the clouds had begun to stream in front of the sun. We got brief glimpses of warm light and then it would be gone. Just as the sun was nearing the horizon, we had a few minutes of intense, warm light. The rocks of the canyon wall appeared to radiate the light as if it were heat. Our photos probably won't look real unless we cut back on the saturation. The color we saw seemed too intense to be real.
Tonight was spaghetti night, so we had a fitting ending to a great day.