We've done the Grand Circle Route several times on previous vacations, but this is the first time that we've added Canyon de Chelly. I've wanted to photograph Spider Rock ever since I saw it in a geology textbook decades ago. Today would be the day to finally see it.
The cottonwood trees in the campground provided us with background music as we prepared to leave Williams this morning. The leaves haven't started changing color yet, but they've begun to dry out and play their fall concerto.
From Williams, we continued to climb into Flagstaff and then onto the giant plateau to the east. We crossed a divide at over 7,300 feet. That's higher than Mammoth in the Sierras, but there are no mountains here. It's just one large, nearly-featureless plateau. A newly-paved highway meant we were just cruising along.
We made a brief stop in Winslow at the Walmart. Our Sonic toothbrush died on us, and thanks to the wonders of the Internet and our GPS, we drove directly to the Walmart and bought what we needed. We couldn't help but be impressed with this store. It was huge, well-stocked, and immaculate. And most importantly, now we will feel like we have clean teeth again. The old toothbrushes just don't cut it.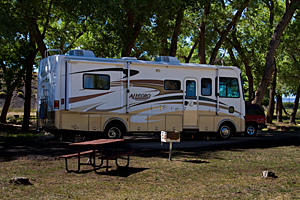 We arrived at Canyon de Chelly about 3:00 and drove to Cottonwood Campground. As advertised, it is a no-fee campground. A national monument that doesn't charge for camping. What a deal! We found a shady spot under the cottonwoods and set up camp. We had lunch, made our reservations for a Jeep tour of Canyon de Chelly for tomorrow morning, and then drove the South Rim Road to get acquainted with Canyon de Chelly.
We stopped at the first two overlooks and began noticing how quickly the sun was dropping. From there, we drove straight to Spider Rock.

We arrived just as the shadows started creeping up the spire. Our timing was excellent, because the lighting seemed to be constantly changing. At one point, there were only four of us at the overlook, and all we could hear was silence. It was remarkable.
We returned to camp after dark and started grilling steaks by flashlight. That sounds like a typical vacation evening for us. At one point, I looked up and realized I was looking at the Milky Way streaming across the sky. It was gorgeous. A few minutes ago, I looked out the door of our motorhome to see the nearly full moon rising through the trees. That wiped out the possibility of photographing the Milky Way tonight, but it was still great to look out and watch the moonrise. Tonight's entertainment was free and only required taking the time to appreciate it. This is why we travel.
| | |
| --- | --- |
| | |
| Canyon de Chelly | Spider Rock |