Today was a very full day, and a very good day. We met Harris Hardy at 9:00 this morning for our Jeep tour of Canyon de Chelly. We had reserved a tour with Ben Teller yesterday, but there was some kind of mix-up. Ben is known for being an excellent story teller and guide. We ended up with Harris driving a Suburban, but we still had our private tour.
Harris knew the history of the canyon, the symbolism of the pictographs, and the story behind the ruins. Harris also brought the unique perspective of someone who had grown up in Canyon de Chelly. He was raised by his grandparents in the canyon and lived the first part of his life in a traditional Navajo family.
Canyon de Chelly is a remarkable place. The farther we drove into the canyon, the higher the canyon walls were. By the time we reached Antelope House Ruin,

the walls were 900 feet high. We've seen granite walls in Yosemite that are double that, but this is sandstone. A caprock protects it from faster erosion, but it's still amazing. At Antelope House, it felt like the sandstone cliff actually hung over us. I've hiked to the bottom of the Grand Canyon, but Canyon de Chelly is much more personal. The contrast of the dark green cottonwoods and the sandstone walls was wonderful. I can only guess what it must look like when the leaves have turned to gold.
| | |
| --- | --- |
| | |
| Hunting Panel Pictographs | Hunting Panel Pictographs |
| | |
| Pictographs near Antelope House | Antelope House Ruins |
After our 3-hour tour, we checked out the overlooks on North Rim Drive. Antelope House Overlook

gave us a view back down to Antelope House from the canyon rim. We were there at mid-day flat light, but we got a hint of what it would be like in golden light. We made notes for the next time we're in Canyon de Chelly, so we can hit the overlooks at the right time. This trip was an introduction to the area.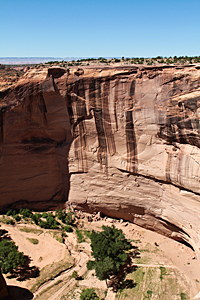 After the North Rim Drive, we returned to camp, packed up and drove to Monument Valley. We spent a little too much time in Canyon de Chelly and just missed the sunset at Monument Valley. It probably didn't really matter that much. We were both pretty wiped out, and there wasn't a cloud in the sky.