Mule Canyon and the House on Fire ruins were our main goal for today. This is an Anasazi ruins in the Cedar Mesa area, which seems to have ruins scattered throughout many of its canyons. What makes this ruins unique is the way the late morning sun is reflected onto the roof of the alcove that contains the ruins. The sandstone layering of the ceiling makes the reflected light look like flames climbing toward the sky.
Our GPS took us right to the trailhead, and it was an easy one-mile hike up the canyon to House on Fire.

We timed it perfectly and arrived about 11:00. The sun was just beginning to "turn the corner" on the ridge containing the ruins, so the ceiling was well lit, but not blown out by direct rays of the sun.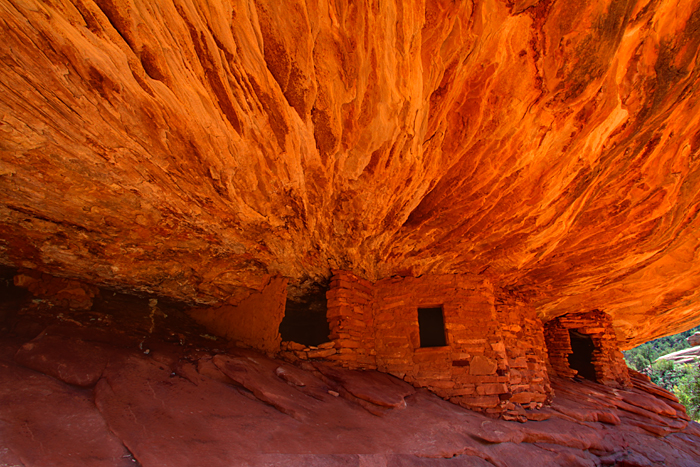 At one point, there were eight of us at the ruins, but it still felt like we had it to ourselves. The other two groups continued up Mule Canyon looking for the other four ruins. We had lunch at the ruins and decided to head back to the car. We definitely haven't acclimated to the heat here. It's been in the upper 80's and low 90's most of the days so far, and it has zapped us. We checked out an area outside Monument Valley that we may explore tomorrow on our way back to our campsite, but that was about as much as we could handle.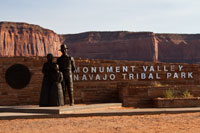 When we got back to the motorhome, we turned on the air conditioning, set the alarm, and crashed for an hour. When the alarm went off, we grabbed our gear and hustled to Monument Valley for sunset. We hardly recognized the area. The campground has been replaced by a brand new hotel called "The View." The old visitor center is gone and has been replaced by a beautiful modern building. The parking lot has been redone, and the feel of the area is now "modern resort." It is a huge improvement. All the hotel rooms look out over Monument Valley, so they have a million-dollar sunrise and sunset view of the area. We settled for the $5.00 sunset view from the famous rocks on the ridge that overlooks Monument Valley. There wasn't a cloud in the sky, so the sunset was pretty unremarkable except for the warm light on the formations.