Plan B. Sometimes you need a Plan B. Today was one of those days. We were supposed to hike to Fallen Roof ruins in the Cedar Mesa area, but we decided we weren't up to it. We went to Plan B, which was driving to Goosenecks of the San Juan State Park.

By the time we got there, the light was flat, but it is still an amazing place. It is the classic example of entrenched meanders. The San Juan was a geologically old river that had well-formed meanders across a flood plain. Then the Colorado Plateau was slowly uplifted. The uplift was gradual enough that the river didn't change paths while cutting down through the uplifting plateau. We were looking down 1,000 feet into the San Juan River. The river flows for 7 miles within a 2 mile area as it meanders back and forth.
After our geology lesson, we returned to camp and relaxed. We had a leisurely lunch and then decided that we still wanted to see Fallen Roof ruin. We extended our stay at Gouldings for an extra day, so we can do the hike to the ruins tomorrow morning and then drive to Moab in the afternoon. That way, we would only loose our sunset shooting in Arches in exchange for Fallen Roof ruin. Since we've never seen the ruins, we decided it was a good trade. Of course, now we're paying for campsites at Gouldings and in Moab for tomorrow night, but that's the only way we can make it work. It's still cheaper than a single motel room in either place.
In an effort, to prepare for a quick escape tomorrow, we decided to dump our holding tanks. That's normally about a 15 minute task. It's not a favorite task, but it's usually not a big deal. Our campsite offered a new challenge we hadn't faced before. The standpipe where we drained the tanks was taller than the outlet from the motorhome. It was at least 18" off the ground. In other words, the stuff would have to flow uphill. I don't know if they were afraid of floods when they designed our campsite, but they sure made it tough to dump. We eventually got everything dumped and were in the process of cleaning the hoses when we had our moment from the movie "RV." Without getting too graphic, let's just say it was gross!
One of the advantages of skipping the hike to the ruins and staying in camp was that we had plenty of time to do the 17-mile drive in Monument Valley. We waited until the light started warming and then drove back to Monument Valley. Although the rest of the facilities and roads at Monument Valley had been improved, the 17-mile road didn't change at all. It doesn't require 4-wheel drive, but it really throws you around as you drop down into the valley. They probably don't want to improve it because fewer people would hire tour guides if it was a good road that anyone could drive. We were still missing clouds in the sky, but there was some nice warm light on the west-facing formations. We made it to the Totem Pole just before sunset. We had about 20 minutes of good light before it suddenly went flat. Another 10 or 15 minutes of good light would have been nice, but we were glad we hadn't spent more time at any previous stops and missed the Totem Pole.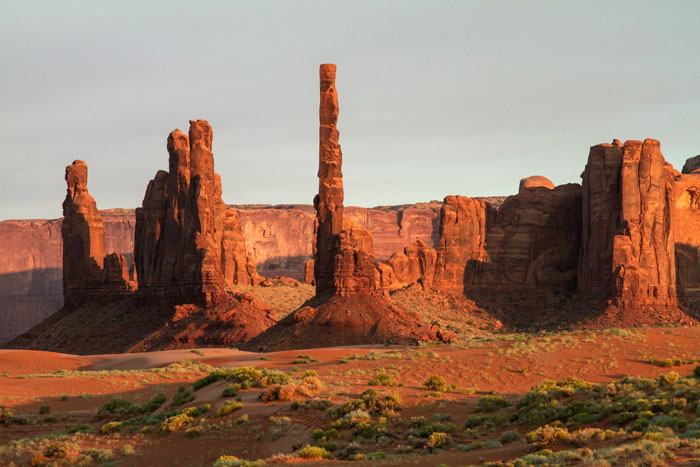 We returned to camp early enough to have a real dinner. We've been doing a lot of soup, sandwich, or "anything quick" meals so far on this trip because we've been getting back to camp so late. Tonight's grilled chicken with baked potatoes was like a real dinner.
We've seen lots of interesting camping rigs over the years, including a motorhome pulling a trailer that had motorcycles, kayaks, and a helicopter. Our neighbor tonight definitely has one of the more unusual rigs. I thought it was strange when they pulled in with a camper van pulling a little tear drop trailer. Why does someone need a tiny trailer when they have a full-sized camper van? I thought maybe they just pulled it for storage. It wasn't until I went out later that I saw the two cats in the trailer. They have a separate trailer complete with electricity and air conditioning for their cats! They may have preferred to stay in the van, but the trailer was a pretty plush home for two cats.