Try again. We often don't stick to our original plans on our trips. We want to have things planned for every day, so we don't waste a day sitting around and trying to decide what to do. We often change the plans according to weather, our level of fatigue, or just what we feel like doing (or not doing). Today, we decided to do the hike we missed yesterday to Fallen Roof Ruins. That turned out to be a good decision.
Our GPS took us right to the trailhead (not always easy since many of the roads across Cedar Mesa aren't marked, and BLM doesn't want to publicize the ruins). We switched to our hiking GPS and got everything ready to hike to the ruins. One of those preparations was to reset the hiking log in the GPS. I've done it hundreds of times before, but this time I made a gigantic mistake. The GPS display was acting up and I got impatient. I accidentally selected to delete not only the latest hiking data but also all the way points and routes. In other words, I erased the route we should use to find Fallen Roof Ruins. OUCH! We worked around my goof by taking the directions I had printed from the Internet and using the tracking functionality of the GPS. Between the two of them, we hiked right up to the ruins without missing a step. It took a bit of energy to climb up the 80 feet to the ruins, but it was well worth it. We had the place to ourselves!
Fallen Roof Ruins

is well-named (although it's not an official name) since a center section of sandstone layers has fallen from the roof. That left a roughly oval shaped depression in the roof. And like the ruin at House on Fire, the roof glowed with the reflected sunlight from the other canyon walls. After we had photographed for awhile, we took a break and sat out on the "porch" and enjoyed the view up the canyon. We were 80 feet above the canyon floor on a wonderfully smooth sandstone ridge. We were sitting looking down on a canyon where Native Americans watched their children playing in the stream hundreds of years ago. This was their community. Even in the silence, you could almost hear the laughter of the children.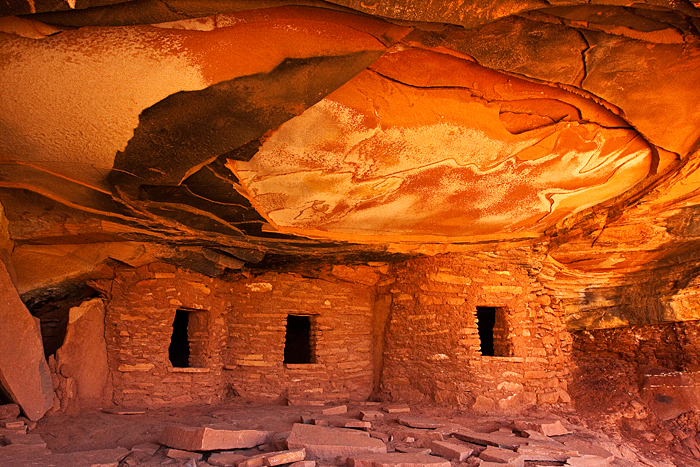 As we started down from the ruins, we ran into a woman from Palm Springs and compared notes with her. She was the only other person we saw until we returned to the Explorer. There are advantages to traveling this late in the season.
It took us an hour to return to camp at Gouldings. We finished packing everything up and then decided to take a short nap before we left for Moab. We were both pretty wiped out from the hike back out of the canyon in the heat and didn't want to take any chances on falling asleep as we were driving. I knew Carol would be asleep 5 minutes outside of Gouldings, and I wanted to be sure I didn't join her. We finally pulled out about 4:45 and headed north for Moab.
We have driven the highway between Monument Valley and Moab many times, but it was either in my pick-up or pulling a pop-up trailer behind the Explorer. I remembered nothing about all the long, steep hills that we had to cross. It seemed like we had another 6% grade every time we turned around. That made for slow going, and we arrived in Moab after dark. Our sleepy little town of the 90's has exploded into a town that must stretch 8 miles along Highway 191. We hardly recognized it. I think every major motel chain now has at least one motel in Moab. It's sad to see the little town of our first trips disappear, but all the new tourism has brought an affluence to Moab that has meant a lot of major improvements. We still recognized the T-shirt Store, Walker Drug, and City Market, but most of Moab was new businesses. There has to be 20 tour guide companies for hiking, biking, jeeping, and river rafting. Moab has become an outdoor recreational mecca. The lady at the campground said that the April Jeep rally brings 30,000 people to Moab.