Today was still a bit breezy, but it was much better than yesterday. We ventured out to The Ranch at Death Valley (formerly named Furnace Creek Ranch) and were pleasantly surprised by all the renovations. Previously, it had a run-down, western, ranch vibe. They have completely renovated the restaurant, saloon, and store. They also re-landscaped the entire area, so it looks like a lush oasis in the desert. They did a great job. They tore down all the cabins that used to be at the front of the resort and are in the process of replacing them with new cabins and a new motel building. We discovered later that Xanterra has spent 100 million dollars renovating The Ranch at Death Valley and The Inn at Death Valley.
In the late afternoon, we drove 20 miles to the Mesquite Flats Sand Dunes. These are huge dunes that cover several square miles. This is one of our favorite areas to photograph. With all the wind yesterday, we hoped the dunes would be swept clean. No such luck. This is also a favorite area for hikers, those who love to slide down the dunes on snowboards or snow discs, and for people who just want to hang out on the top of the dunes. There were people everywhere. We had to hike in 1.5 miles over four or five sets of ridges before we found any sand areas without tracks.

We finally settled for an area that had some nice rolling dunes and started shooting. We later joined two guys shooting on the top of a low dune and shot until sunset. We didn't get anything spectacular or even approaching what we shot on previous trips, but it was a good re-introduction to the dunes. We are hoping for some good winds to sweep the area clean before next weekend.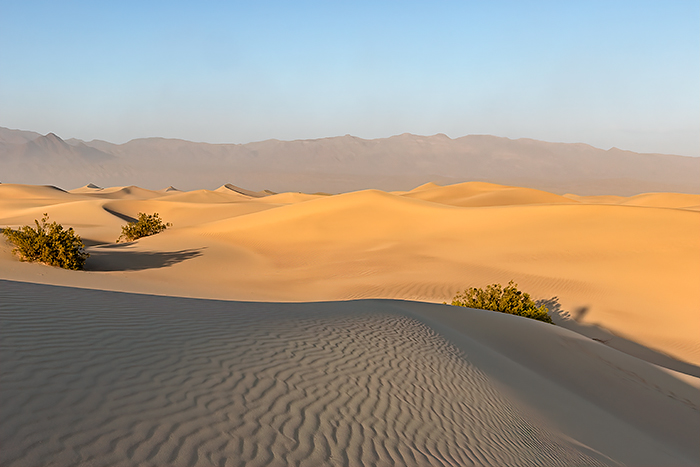 | | |
| --- | --- |
| | |
| The Image I Took | The Image I had Hoped For (Sky Replaced in PS) |