Today was the day to get my Real ID in Bishop, but first we drove up to the Alabama Hills to shoot moonset over the Sierras. We were two days late for the best conditions to shoot moonset, but it was a gorgeous day to be out and about. Once again, there was no sunrise, so we explored some new areas to shoot along the northern part of the Alabama Hills. We found a couple of areas we liked for framing Mt. Whitney and Lone Pine Peak, but the lighting was flat, and our images will probably be throw-aways.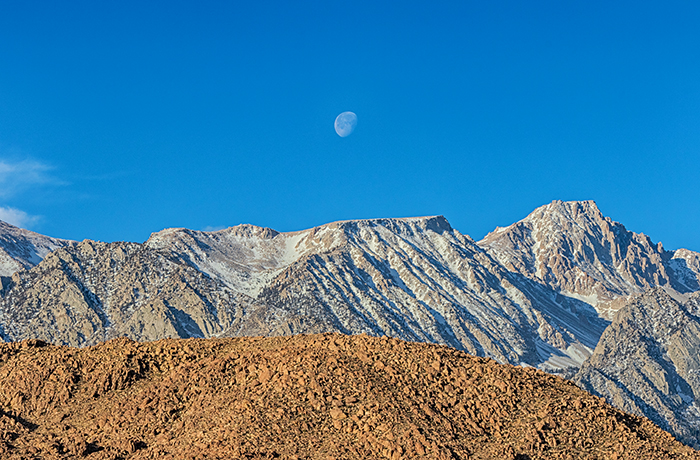 Moonset
| | |
| --- | --- |
| | |
| Lone Pine Peak and Mt. Whitney | Mt. Whitney |
It's nearly always a beautiful drive from Lone Pine to Bishop. In the spring, the highest peaks of the Sierras are still covered with snow as a reminder that it's not summer yet. In fact, all the roads up into the Sierras in places like Tom's Place are still closed. It was a gorgeous day to drive up the Owens Valley.
There were a few cars in the Bishop DMV parking lot, but there were only four people waiting in front of me when I signed in. A very nice lady with a good sense of humor went through all my documents and verified that I had everything I needed for my Read ID. Then it was time for the photograph for my ID. The ladies take getting a good photograph very seriously and will suggest taking another photo if it isn't up to their standards. Thirty minutes after I walked in the door, I was done and walking back out to the parking lot.
Continuing our Bishop tradition, we hit Schat's Bakery next. Carol stocked up on cheese, olive, and sheepherder's breads.
Then it was time to head south for the highlight of the day: Copper Top BBQ. It was mid-afternoon, so there were only a couple of cars in the parking lot, and the wait was short. That was important, because the smell of BBQ had already started my gastric juices and rumblings in my stomach. As always, the pork ribs were amazing. We ate our half rack and then ordered another vacuum-sealed rack to bring home. It's too bad all of our favorite BBQ spots are in places like Big Pine, CA, Jackson, WY, and Bend, OR.
When we returned to Lone Pine, we drove back out to the Alabama Hills to shoot golden hour from Mobius Arch. There were a couple of other families at the arch, so we waited our turn to photograph. While we were waiting for sunset, we played around trying to get star-bursts and shooting across the rock formations, but our luck with sunrises and sunsets hasn't changed on this trip. We finally were ready to climb onto the rock that we used to get in the right position to shoot Mt. Whitney through the arch. This used to be a relatively easy process that required some crawling and contortions, but our bodies don't bend the way they used to. Now, it's more of a comedy act to see us try to get into position. And after all that work, the sunset was a total dud and we "got nothin'.